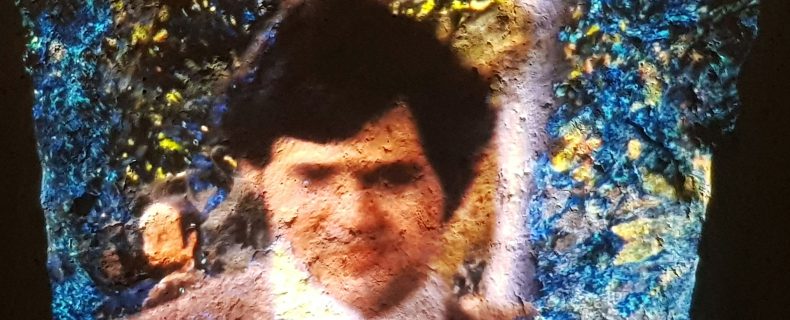 Memories of Others
Irit Batsry
July 15 – September 8, 2023
Curated by: Sala-Manca
Irit Bastry, one of the most highly regarded Israeli artists today, began creating video art in 1981 in Israel.  Two years later she moved to New York where she continued to create film and video installations. In 2003 she began collecting amateur films, and these have accumulated over the years into an "accidental archive" of thousands of reels. Most of the films in Bastry's archive were purchased in the flea market of Lisbon, where her studio of the last decade is located. The physical state of these films is affected by the weather, by storage in "unsuitable" places, and primarily by time, which inevitably takes its toll on material, any material. In her installations she uses the films as her raw material, raising aesthetic and technological questions about "dead" formats: what memory do they preserve, and what memory do we choose to preserve? What is the meaning of this death? What kind of new life is breathed into these materials as a work of art with a new meaning and poetics, in addition to their original context?
In Batsry's palimpsestic installations, layers of personal and collective history are written and erased time and again, in both content and material. The exhibition includes four video and film installations  that deal with memory, oblivion, and erasure – deliberate or accidental – of the personal, familial, and collective histories embedded in the films. Some of the works deal with the ability of the filmic material, today virtually obsolete, to transform into sculptural material. In the installation Eden Batsry uses films that practically lost the original image to create architectural worlds commemorating the first movie theaters, many of which had the same name: Eden (Jerusalem had its own Eden Theater). The image of the cinema as a world that allows us to experience the promised Garden of Eden, if only for a moment. At the same time, the strips of film, altered by processes of decay, generally emit a strong smell of acid, like a body whose soul has left it. Batsry's works give these films new life in the world of visual art.
In another part of the exhibition, Batsry continues to examine her place as an artist vis-à-vis her role as an "accidental collector." In her iconic, award-winning 2000 film These Are Not My Images (neither there nor here), screened again at this year's Jerusalem International Film Festival, she follows a western filmmaker filming in India, with the help of a local director, in a dystopian future. The filmmaker follows the footsteps of other western filmmakers as she reflects about the meaning of making a film in a place that she does not belong to. In the Accidental Archive,  Batsry invites visitors to view  a selection of about one hundred films from her archive. While the memories are not her own, she concedes, they have become part of her oeuvre. The acts of collecting, curating, and observing cast a new meaning into these films and give new life to images otherwise relegated to oblivion.
We are happy to present Irit Batsry's new exhibition, comprised of four video art and film installations, at the Mamuta Art and Research Center as part of the Intersections experimental video program of the 40th Jerusalem International Film Festival.
The exhibition is supported by the Ostrovsky Family Fund, the Ministry of Culture, and the Jerusalem Municipality
Special thanks to Plaskolite, Meir Russo from the Israel Film Archive, Artis, Aviv Yitzhaki, Vivian Ostrovsky, Dvora Haitsook-Shani, and Tomi Shani.
Closing: September 8, 2023
Curators: Sala-Manca Group | Production: Naama Mokady | Technical direction and installation: Eitan Haviv | Assistant: Gili Rahat | Graphic design: Maya Shleifer | Text editing: Ronit Rosenthal | Arabic translation: Na'im Abu Leil | English translation: Tamar Cohen | Programming: Amir Bolzman
Opening Event: Saturday 15.7.2023, 19:30. Facebook Event
Opening hours: Tue-Thurs 14:00-19:00, Fri 10:00-14:00 . Closing: 8.9. Recurring Facebook Event
Gallery Talk: Friday 21.7 at 12:00 pm
Image: Irit Batsry, Fragments of an Accidental Archive, 2022