Printed matters by Mamuta and Hearat Shualaym. Click the image to achieve and download pdf files. Printed copies can be bought and post to you contact us if you are interested.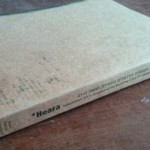 Heara Independent Art in Jerusalem at the Beginning of the 21st Texts by Hadas Ophrat, Anat Danziger, Ronen Eidelman, Guideon Ophrat, Mushon Zer-Aviv, Sala-manca, Pil&Galia Kollectiv, Itamar Bz, Dalia Marcovich, Albert Suissa, Rafram Chaddad Editors: Ronen Eidelman, Lea Mauas, Diego Rotman | English&Hebrew   Printed version:  100 nis (including post) Digital version free
Dialogues| The Tapes of Debel Gallery Reedited by Sala-manca [Click the image]
(H)earat Shulaym (Note in the Margin) is an Independent Journal of Contemporary Art and Literature published by the group of artists Sala-Manca. The purpose of the magazine is to temporaly shift the gaze of the "reader" from the dominant culture, which, for the group members is mostly a marginal culture. The aim is to expose works from artists from different fields that were conceptualized far from main existing trends. This magazine is published without advertisments and without any official support.
Issues: 1-11 Free PDF [Click the image]