The Experimental Cinema and Video Art Awards 2015
Judges considerations
Lia Van Leer Award – Maya Geller / Factory
In this premiere work, Maya Geller presents a rich and cohesive cinematic language. Through this
gripping video, Geller manages to take a regular work day in a flour mill and transform it into a
theatrical performance. Each and every one of the characters and elements native to the factory are
actors in this daily performance. This includes the employees themselves, as well as flour particles
permeating the air like tiny starry dots, or even the canvas tarps shrouding the trucks and flapping
closed like a finale of a theatre show.
Using precise photography, editing and sound, in Geller's skilled hands a routine day becomes a
layered, surprising and moving experience. We are curious to see her future work.
Ostrovsky Award – Boaz Levin and Adam Kaplan / Last Person Shooter
The heart of Boaz Levin and Adam Kaplan's video is the encounter between the human gaze and
mechanized vision. This work presents several 3D models that mimic similar first-person
perspective video games to recreate historical events. The work unfolds with an architectural
simulation of the assassination of Ahmed Ja'abri by an IDF drone, shifts to the Cuba Missile Crisis
in 1960, and concludes in a video reconstruction of an American soldier in Afghanistan. This
simulation creates a sterile and alternative reality, a façade disguising actual reality, becoming a rich
and attractive source of stimulations. This establishes alternate narratives for events in real time.
The 3D reconstruction takes complex historical events, recoding them into digestible products,
producing an illusion of order. These characters are devoid of emotion, despite portraying true
events, as they occur outside the bounds of time, a form of total mask that overcomes the painful
experience. We find that Levin and Kaplan's work is a relevant and contemporary depiction of
warfare and its mediation in the 21st century. This work exposed us to the fact that we should not
only consider what we see, but also how we see.
GOQC
Dir: Yahav Ger
GOQC is a super quantum computer that comes to life in a world without people.
As his consciousness grows, so does his need for an intelligent being such as his human creators. He puts his hope in the rapid evolution of the synthetic creatures around him – mankind's remains.
2014 | 15 min
Lady Slaughter & Lord Savage Vegan OR Meat Mutineers
Dir:  Avishai Sivan
In this video piece, the two evils of human civilization – chauvinism and animal slaughter – come head to head in battle. Leah is loved by a devout vegan, whose love is blind and obsessive. He turns violent when he learns that she slaughters cattle for a living. The cruel and the beautiful, the shrewd and the bestial – are all fused together in a unique punk ballad.
2015 | 10 min
Tour 1
Dir: Myssa Daher
My work was influenced by growing up as fourth and youngest child in my family, a sister to three older brothers. I grew up in front of the TV, which made me restless and bored, and so I invented imaginary games to entertain myself. I constantly wanted to go out on new adventures, just like in the movies. Although by now I realize the difference between movies and reality, this has had a great impact on my present confused and somewhat crazy personality.
2014 | 5 min
Rehearsing the Spectacle of Spectres
Dir: Nir Evron & Omer Kriguer
Rehearsing the Spectacle of Spectres are the opening words of a poem written by Anadad Eldan (b. 1924), a member of kibbutz Be'eri who wrote librettos for kibbutz ceremonies, holiday performances and agricultural pageants, and also published numerous books of his own lyrical poetry. Evron and Krieger invited a group of kibbutz members to recite the 26 verses of this opaque and suggestive poem.
2014 | 9:18 min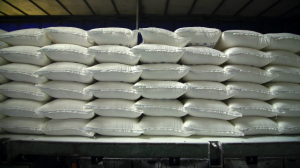 Factory
Dir: Maya Geller
Factory daily routine reveals a series of actions and the people behind it. Trying to pour meaning into empty flour sacks, I became a diligent worker motivated by the factory's flow; touching the material, sifting, processing, letting it pass through me into the visual text presented to you. As a sterile organ I contained the dreams, desires and erosion the factory holds within it.
2015 | 12:30
Guava
Dir: Thalia Hoffman
2048. On a road used by refugees, between Jaffa-Tel Aviv and Beirut, two refugees discuss love, memory, trust and forgetfulness.
2014 | 12 min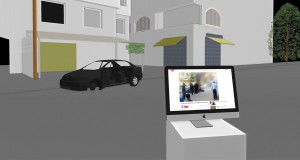 Last Person Shooter
Dir:  Boaz Levin & Adam Kaplan
Last Person Shooter examines human and mechanical modes of vision. Through a series of historical scenes, reconstructed as 3D architectural models, the historical context and underlying concepts of machine vision are conjured.
2014 | 12:40 min