"The Tea House – A New Sound Gallery || Daniel Meir, "Umwelt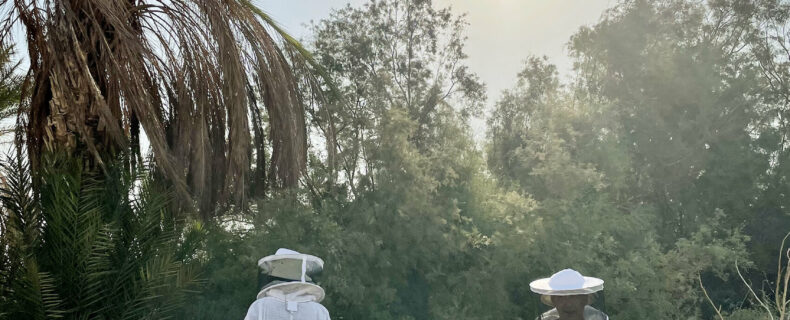 Opening Event of The Tea House – A New Sound Gallery in Hansen House
With a sound installation by sound artist Daniel Meir
March 24 – June 6, 2022
The Hansen House Center for Design, Media and Technology
The Tea House is a new space dedicated to sound based-projects, launched in March 2022 as a collaboration between the Hansen House Center for Design, Media and Technology, and Mamuta Art & Media Center.
In early 2021, in a complex effort, the Tea House's building was transferred to the Hansen House's courtyard from Villa Sherover, which was a symbol of Jerusalem's prestigious neighborhood, Talbieh. Villa Sherover was surrounded by a garden of about 6000 square meter, designed in 1956 by award-winning landscape architects Lipa Yahalom and Dan Tsur. A poolside location was chosen for the shell-shaped Tea House complete with an intricate mosaic floor, the same spot where the country's elite and world leaders attended lavish parties, fashion shows, and social events. 
Following Jerusalem municipality's approval to renovate Villa Sherover, the Tea House was among the elements selected for preservation, was transferred from its original location to the northern courtyard of Hansen House, becoming part of the public arena. 
The sound gallery opening in the Tea House is established as a platform for artists creating contemporary music and sound-based works in Jerusalem, and in Israel. The gallery's exhibition program includes five sound installations per year, alongside additional projects designed for this unique space. 
The project is organized by Hansen House and Ran Wolf Urban Planning, and supported by the Jerusalem Development Authority and Jerusalem Municipality. 
The Tea House opening event and first exhibition by sound artist Daniel Meir will take place on Tuesday, April 5, 2022, at 18:30. Meir will show a new work titled Umwelt, developed following the artist's presentation in the exhibition Land. Milk. Honey, at the Israeli pavilion, the 2021 Venice Architecture Biennale.
The term Umwelt was coined by German zoologist Jakob Johann von Uexkül in the early 20th century and concerns how different creatures experience the world differently, according to their body characteristics and sensory perception. 
Meir's sound installation is comprises recordings of microbats, some on the verge of extinction, documented in 2020-21 in abandoned caves and bunkers, located near Israel's border with Jordan and Lebanon; slowed recordings of swamp inhabitants reveal harmonies and rhythms normally unheard by the human ear; wasps "drumming" on a hive fixed to a touch microphone.
 In recent years, Meir has shifted his focus toward research and recording of sound materials that are beyond the threshold of human hearing, in collaboration with Dr. Eran Levin, the School of Zoology, Tel Aviv University. The products of their research are adapted and edited by Meir to suit the multidimensional listening experience he designed for the unique sound system now housed in the Tea House. 
An album containing this body of work will be released in March 2022 in conjunction with this exhibition.
Daniel Meir is a sound artist and sound designer, and a lecturer at Bezalel Academy of Arts and Design Jerusalem. Specializing in designing soundtracks and original music for video art, film, and theater, Meir creates sound installations and performances, and works with sound and video artists, film directors and musicians from Israel and abroad.
Daniel Meir, Umwelt
Curators: Amir Bolzman and the Sala-Manca Group
March 24 – June 6, 2022
Tea House opening hours:
Mon-Thu 16:00-22:00
Fri 10:00-16:00
Facebook Instagram  www.hansen.co.il
—
Events and Workshops
Opening event: Tea House Gallery + "Umwelt" Sound installation
Tuesday, April 5, 2022, at 18:30
a Conversation about sound, research and zoology
Wednesday, May 11, at 19:30
Every Living Creature That Moveth
Thursday, June 9, at 19:30