Call for an audition The Doubles and Ourselves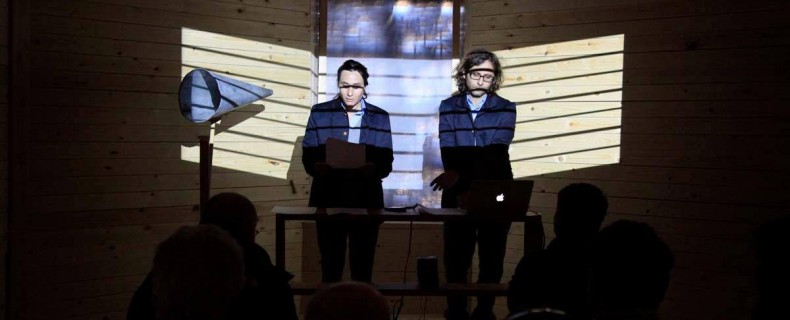 Call for an audition (couples or singles) to be Sala-Manca double (doppleganger)
Thursday 10/3, Tuesday 15/3 and Friday 31/3 at Mamuta in Hansen, Jerusalem by Appointment

The Doubles and Ourselves
A performance work based on the selection of one or more pairs of doubles to stand in for the Sala-Manca group in its various artistic and public activities
In recent years, due to the nature of modern life in general and the pace of life in Israel in particular, Lea and Diego have found themselves engaged in multiple occupational and social roles that stretch their physical and mental limits: art performance, curating, academic writing, talks, artistic and administrative direction of an art center, on top of the many other roles they play in their normal lives, such as parenting and friendship.
Teetering on the physical and mental edge, not to mention on the threshold between art and life, brought us to the basic idea for a new project, which attempts to challenge the boundaries of our very selves. The idea is to create a double for the Sala-Manca group, or, a pair of doubles for the couple, Lea and Diego.
In the era of the global neoliberal economy, can we create a franchise out of of ourselves? Can we (human beings) be duplicated physically or spiritually?
Over the next year, the Sala-Manca group—Lea Mauas and Diego Rotman—will cast a series of doubles of themselves. These doubles will appear instead of the artists themselves: performing Sala-Manca's works, giving lectures on art and on the history of the group, teaching at the art schools where the artists teach, managing the Mamuta Art & Media Center, and maybe—why not—going to visit Lea and Diego's family and friend in Buenos Aires, and even swapping partners for a while, appearing in public with one original and one double.
For the artists themselves, it examines the limits of genre in an age of the blurring of boundaries between original and reproduction. The present project goes on to blur the boundaries between private and public identity.
We invite those who are interested to take part to come for an audition by appointment.The process of training, for those who would be chosen among the applicants, will be remunerated.
With the support of Artis