Behave Naturally | Adi Kaplan and Shachar Carmel
Adi Kaplan and Shachar Carmel | Behave Naturally
Curators: Sala-manca
Hansen House, Jerusalem
Opening 25.10 19:30 | Performance by Adi Kaplan, Shachar Carmel and Shira Legman
in the frame of Manofim
Mamuta at Hansen House presents:
Please Behave Naturally
An exhibition by Adi Kaplan and Shahar Carmel
Curation and intervention: Sala-Manca Group
55 pastel-oil paintings on canvases of different sizes make up the three series that comprise this exhibition, each documenting the goings-on in a different Tel Aviv public space. Carmel and Kaplan's paintings are based on their own texts, each line of text inspiring one of the paintings. The series, painted over the course of the past three years, were printed in the book "Please Behave Naturally," published in 2016 by LevAfor Publishing. Upon the book's printing and publication, the paintings in it were rendered a byproduct of the book's production.
Thus in a certain sense the exhibition is the catalog, elucidating the series of paintings that appear in the book. The exhibition and the book create paths that are reflected in one another, using the same images to tell similar but different stories. The book and the exhibition are not illustrations of one another, but parallel entities with similar faces. The installation in the gallery is a product of the re-editing of Kaplan and Carmel's three stories within a single story, told through the intervention of the Sala-Manca group.
Kaplan and Carmel have been working together for more than two decades. They create together, complement one another, erase, add, and complete one another. Their choice of oil-pastel is an aesthetic as much as a conceptual choice: the colors are never resolved, always open for erasure or for the ongoing act of painting.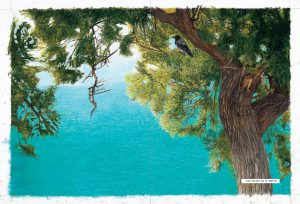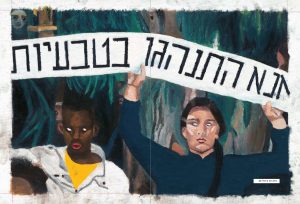 ===========
We met Kaplan and Carmel, who work on the seamline between politics and art, during a guerilla action that they initiated in 2004, with the installation of the exhibition "Russian compounds" in Jerusalem's Russian Compound (together with Yoram Blumenkrantz). The exhibition was presented as a response to the curators of the Artfocus 4 bienalle, after those agreed to sign the participating artists on a secret contract with the ministry of defense, which manages the site in which the biennale took place – a British mandatory prison that is located also in the Russian Compound. Shahar and Kaplan presented a series of paintings based on photographs of B'tselem. This was the beginning of an acquaintance that led to many collaborations, most of which took place in the framework of the "Heara" contemporary art interventions. The last – the collaborative work "The Dybbuk 1937-2017" was presented in the framework of the Jerusalem International Film Festival.
In the last one the two artists, in cooperation with the musician Shira Legman and the animation artist Shahar Davis, created the show "The pianist," which combines live and recorded music, soundscape from the places described in the paintings, narration, and animated projections of the paintings. The show will go up in Hansen House in the opening of the exhibition.
https://www.facebook.com/events/874567549372983/?active_tab=about