The 31th Jerusalem Film Festival- July 10th -20th, 2014 in collaboration with Mamuta Art and Media Center
The Annual Video Art and Experimental Film Award
The competition will take place this year in its 11th edition within the 'Intersections' program, during the 31st Jerusalem Film Festival. This call is relevant to artists and filmmakers who work in Israel and to Israeli ones based abroad, whose films has been produced in the years 2013-2014 and haven't been screened in video or film festivals in Israel. The films/videos won't exceed 15 minutes including titles. The participating works will be chosen by an artistic committee.
This year we will grant two awards: 1st prize 8000 nis, 2nd prize, a solo show at Mamuta's small gallery in Hansen.
For registration, please check the guidlines on-line application form and register.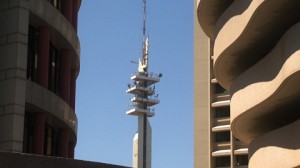 image from "Marganith", a video by Tsion Avraham Hazan, winner of the 2013 award.
For more info: prod@mamuta.org  | www.mamuta.org || http://www.jer-cin.org.il